penelope.net presents:
Jean Caffeine
Idee Fixe

(2000) Joe Records 10 tks
$10 CD
A dark rich blend slow percolated over long nights of obsession and filtered through hard-edged rootsy guitars, great hooks, lyrical intensity and whimsy to make an exhilirating Texas brew with hints of Marianne Faithfull, Patti Smith, the Stones, and Liz Phair.
"Austin, TX singer/songwriter Jean Caffeine doesn't do anything different on her fourth album than she's ever done. She's still hooked on tough roots rock and still writes intelligent, often witty songs that eviscerate the games lovers play. The thing that sets Idee Fixe apart from her previous platters is simply the fact that she's at the top of her game. The hooks are sharper, the words both funnier and more desperate and her plain-spoken vocals more expressive than ever. "Guilt," "Firewall" (co-written by Jon Dee Graham), "I'm Not Your Girlfriend" and "Word Junkie" (no kidding) stand as her best songs so far. It's tempting to sum up Caffeine's appeal as a that of a cowpunk Patti Smith, but that would be selling her short. With Idee Fixe, Jean Caffeine proves she deserves to have other artists compared to her. - Michael Toland, Ampliphier Online.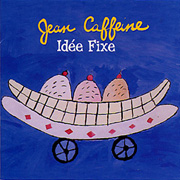 Tracks:
It's Not Nice Without You (When You're Around)
Firewall
Big Sweet Life
Want IT Want It (Idee Fixe)
Getting Directions
Word Junkie
I'm Not Your Girllfriend
Hand Of Country
Guilt
Kiss My Wound