penelope.net presents:
Ramona The Pest
Cans Of Worms

(1997) KingTone Records 10 tracks
$12 CD
Bringing to mind PJ Harvey and the Geraldine Fibbers, Ramona the Pest features the songs and rich voice of Valery Esway. Dark and pretty, ethereal and edgy. Intricate rhythms, crying guitars and heartfelt lyrics. "Powerful, lithe vocals and apocalyptic odes with a dark, brooding, largely acoustic sound full of Lynchian creepy-crawly-isms." - East Bay Express.

Ramona's CD, Cans of Worms, shows a band with dark touches and a restrained acoustic approach, producing a constantly mutating progressive rock. Valerie Esway's vocals manage to sound both troubling and breezy. Hers is a big round voice that likes to go up on its edges, trill throatily, or pass through some Middle Eastern in-between notes. "Monsters in the Window" provides almost a pop framework, on which bits of graceful melody are hung, amid lush backing vocals. "Uninvited Guests," built around an angular guitar riff, comes off as a skewed gem. Likewise "Martyr Girl." Wish I'd had a lyric sheet. The melodies glide through those uncomfortable intervals, and the band thrashes tastefully, with ex-Counting Crow Tobias III providing percussion. Very interested to see this happen live.

Tracks: Frostbite Lullaby
Monster In The Window
Candy
Pesticide
Univited Guests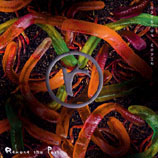 Time And Things
I Put A Spell On You
Vultures
Miss Congeniality
Martyr Girl