penelope.net presents:
Terese Taylor
The Clothes We Wore Before We Were Married
(1999) Bomb Sniffing Dog 5 tracks
$9 CD EP


Newly located in the SF Bay Area, singer/songwriter Terese Taylor "is a glorious soul who has managed to invent a new alternative folk-soul sound that captures countless non-traditional elements of magic and honesty. Not only is Terese's voice rich and hypnotizing, her tunes each exhibit a moment of expression from a truly wonderful mind." - review from riffage.com. Her beautiful debut CD EP contains 5 mesmerising tracks.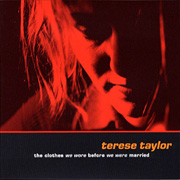 Tracks:
drug problem
let me down
grandma's chocolate bread
cheif letters
everything i touch