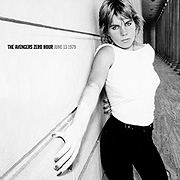 12 inch white vinyl import LP.
With card inner sleeve.

Track Listing:
Cheap Tragedies
Zero Hour
Corpus Christi
Release Me
Uh Oh
Misery (Finger on the Trigger)
Time to Die
The American
These tracks were included on The American in Me CD
and can be download here.
June 13th 1979
the avengers last stand
In the late 70s world of fast and furious punk, two years seemed like a pretty long time. We had already played more than 100 shows up and down the West Coast, driving a beat-up van and sleeping on friend's floors at punk rock squats. Although, we'd recorded a dozen songs in three or four studios – mostly on "spec" time – there was only one 3-song EP (Dangerhouse Records, 1977) available. At that time, support from labels, press and radio was nearly non-existent. Playing on stage at the few punk clubs of the day was how we connected with our audience.
When we decided to break up the band we had three shows left to play. This was the first of the three and was unusual for several reasons. We had headlined every show since opening for the Sex Pistols, a year and a half earlier, but this night we were the support band and we had to play twice. Penetration, the female-fronted U.K. band was touring and Bill Graham's mainstream rock club, The Old Waldorf, booked them to play two shows. The club's policy was for the audience to buy a separate ticket to each set, sit at long tables radiating from the stage and pay for two drinks. If you deviated from their policies you could be dragged out kicking and screaming. No standing, no dancing, absolutely no stage diving, buy that second drink and GET OUT after the first show. We thought all these rules were fascistic and encouraged people to break them whenever we could. "Tables are for dancing on," was our cry that night. We didn't have to worry about not being asked back. We were never coming back!
The other thing I remember about this show was the problem of playing the second set. My usual formula for a happy performance included two to four gin-tonics consumed before and during the show. This plan left me in an exceedingly relaxed state for the second set and in my fairly blurry memory, there's a moment where I believe I fell over. (Not unusual for Punk but it'd never happened to me before.) I'm pretty certain that this recording comes from the first set. Everyone in the band felt torn over our decision to split up, but glad we still had a couple more shows where we could go out in a blaze of glory in front of our most faithful fans and friends.
The performance contains impassioned versions of some of our more notorious songs "The American In Me" and "Corpus Christi" played with the harder, flamboyant guitar style of our last guitarist, Vancouver's Brad Kent AKA Brad Cunt, once of DOA. Also included are three songs that have never been officially released; "Misery" (AKA "Finger On The Trigger,") "Zero Hour" and "Time To Die." While the first two did have actual lyrics, "Time To Die" seems like a work in progress. One that would never be perfected, since ten days later we played our final show. Still, the moment in time has been captured and you now hold a record of that moment, be it powerful, furious, imperfect or bittersweet. It is dedicated to those who were there, but are now too deaf or too dead to remember.
- Penelope Houston, Oakland CA, 2003