penelope.net presents: boys we like too
UKEBOX
Yuketide Steven Strauss has played and sung with me in many of my bands and recording sessions...on Birdboys, The Whole World, karmal apple and Cut You. In the ukelele duet, UKEBOX, he joins with Billy Wilson, and their twenty year musical partnership, through many bands, culminates in a free-wheeling, but quiet, acoustic duet.
The warm, satisfying, fuzzy and funny, Yuketide, is the perfect Christmas gift. (Most of my friends will be getting it!) It will transport you to a time long before CDs or even radio, when winter evenings were spent with a huge log on the fire and live music to while away the hours.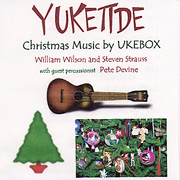 16 instumental tracks: O Holy Night/God Rest Ye Merry Gentlemen/We Three kings Of Orient Are/Blue Christmas/Frosty, the Snowman/O Tannenbaum/The Christmas Song/SilentNight/Jingle Bells/ Silverbells/Angels We Have Heard On High/Rudolph, the Red-Nosed Reindeer/Away In A Manger/Jolly Old Saint Nicholas/The Chipmunk Song/The Little Drummer Boy
Personnel includes Pete Devine guest percussionist.
Check out one of their tunes here.
Yuketide - CDR $9.99 item# GG39.
To order:
For US buyers with creditcards, click the button below for instant purchase!
Shipped in USA. $9.99 CD + $2 shipping
BACK IN STOCK!

add to cart.

penelope.net presents: girlfriends who rock!
These are all independent female artists who have inspired me or whom I've inspired. Many of us have shared stages, BBQs and glitter.
To widen your horizons I recommend them all. -Penelope

Click here for Artists A-K
Click here for Artists L-Z

Or jump directly to:
Avengers, Barbara Manning, Beth Custer, Bikini Kill, Bonfire Madigan, Bratmobile, The Brood, Diana Darby, The Donnas, Exgirl, Handsome 3Some, Jean Caffiene, Jill Olson, Kindness, Knife In Water (Debora Iyall), Le Tigre, Lois Maffeo, The Muffs, Noelle Hampton, Penelope Houston, Ramona The Pest, Ronnie Spector, She Mob, Sleater Kinney, Terese Taylor, Tiny, and Virginia Dare plus boys we like.