penelope.net presents: we like boys, too!
Some of them anyway-Penelope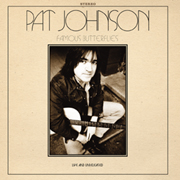 Pat Johnson
Famous Butterflies
(2004) Flare Records USA
11 tracks

A collection of live and rare tracks from Pat Johnson, including four newsongs recorded with former Byrd Gene Parsons! And Penelope sings on two of these gorgeous tracks.


To order click here. $11.99 CD item# GG51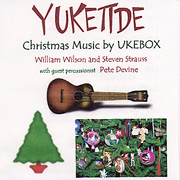 UKEBOX
Yuketide
Steven Strauss has played and sung with me in many of my bands and recording sessions...on Birdboys, The Whole World, karmal apple and Cut You. In the ukelele duet, UKEBOX, he joins with Billy Wilson, and their twenty year musical partnership, through many bands, culminates in a free-wheeling, but quiet, acoustic duet.
The warm, satisfying, fuzzy and funny, Yuketide, is the perfect Christmas gift. (Most of my friends will be getting it!) It will transport you to a time long before CDs or even radio, when winter evenings were spent with a huge log on the fire and live music to while away the hours.
16 instumental tracks: O Holy Night/God Rest Ye Merry Gentlemen/We Three kings Of Orient Are/Blue Christmas/Frosty, the Snowman/O Tannenbaum/The Christmas Song/SilentNight/Jingle Bells/ Silverbells/Angels We Have Heard On High/Rudolph, the Red-Nosed Reindeer/Away In A Manger/Jolly Old Saint Nicholas/The Chipmunk Song/The Little Drummer Boy
To order click here.
Yuketide - CDR $9.99 item# GG39.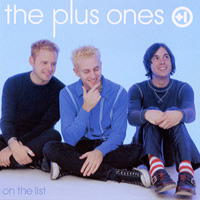 The Plus Ones - On The List
(2000) Coldfront Records 5 tracks
The Plus Ones are here!!! Featuring Joel Reader (MTX); Scotty Hays (Receivers); and Danny Panic (Screeching Weasel) their brand new CD EP "On The List" contains 5 ultra-pop/punk tunes that will have you up and out of your seats in seconds flat. Excellent songwriting, singing, playing and harmonising is not all they're about... they are also cute! Check them out before them become huge! Produced by Robert Shimp (Donnas).
To order click here. $7.99 CD EP item# GG21

The Wellsprings of Hope
(1993) on id records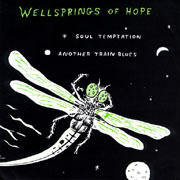 Collectable out-of-print 7" vinyl single from (1993) on id Records. The Wellsprings of Hope was the brainchild of SF songwriter Pat Johnson (long-time co-writer of Penelope Houston) and featured the talents of Tim Hesla, Alec Palou (Sneetches) and Jimb Lyons (Spot 1019).The soulful blues based rock was produced by Greg Freeman and Pat Johnson. On the cover is a drawing by SF cartoonist Brad Johnson. And in every copy a vintage (sorry, un-usable) id records catalog.
To order click here. $4.99 single item# PH15
penelope.net presents: girlfriends who rock!
These are all independent female artists who have inspired me or whom I've inspired. Many of us have shared stages, BBQs and glitter.
To widen your horizons I recommend them all. -Penelope

Click here for Artists A-K
Click here for Artists L-Z

Or jump directly to:
Avengers, Barbara Manning, Beth Custer, Bikini Kill, Bonfire Madigan, Bratmobile, The Brood, Diana Darby, The Donnas, Exgirl, Handsome 3Some, Jean Caffiene, Julie Ruin, Kindness, Knife In Water (Debora Iyall), Le Tigre, Lois Maffeo, The Muffs, Noelle Hampton, Penelope Houston, Ramona The Pest, Ronnie Spector, She Mob, Sleater Kinney, Terese Taylor, Tiny, and Virginia Dare plus boys we like.